Linus without a blanket, and so much more
By Nicco Martinez – Featured author at Hook'em Report and Silver and Blue Report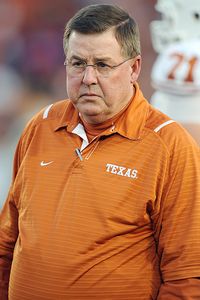 The best one I read this week was from a blogger, Hornucopia, calling Davis intellectually lazy. Kudos for your spot on observation. Hornucopia writes that Greg Davis has our kids run the same old stuff for a quarter or more and then tries to adjust based on what the opposing defense is doing. In short, I think he's intellectually lazy. He doesn't seem to want to prepare a new game plan each week, just rely on the same old stuff until he's forced into something different…. never doubted GD's intelligence – just his work ethic. He's good for one or two original game plans a season but rarely much more. The rest of the time, he usually trots out the same inane (that means silly not psychotic) series of plays and waits to see how the opposing defense will respond. He's a classic counter-puncher. He only rarely seems to enter a game with a clear idea of how to attack the opposing defense.
Thanks Hornucopia, glad to know we think alike, and let's hope that this season there's a second original game plan (other than the NU game) inside of Greg's head.
Think about it, when we get behind by 10 points early in game, Greg junks the run and apparently launches a barrage of counter-punches by passing on every down . . . even when the opponent has the worst run defense in the country.
Gee, Greg, did you ever think that a 15-play run-dominated drive that milks nearly a quarter off the clock is just what the doctor ordered?
If you put that drive together, you just might go into halftime down 10-7, very much in the ballgame, and you give Will Muschamp an opportunity to make sideline adjustments instead of having to immediately send his boys back out on the field because of another offensive turnover or three horizontal smoke screens equaling a quick three-and-out.
When facing the worst run defense in the country, we should have dominated the time of possession, which we did not.
After the UCLA game, the country learned that Muschamp had a lightweight D-line that could be pushed around, especially in the second half once fatigue set in. Dear Mr. Davis, instead of expecting the defense to ALWAYS bail out your butt, maybe a little ball-control allows our defense to stay fresh while wearing out the opponent's defense. There should be no mystery that the 209-yard rushing effort against the Huskers went hand-and-hand with the only win in the last two months as it wore out the NU defense allowing Cody Johnson to have his way down the stretch.
Yes, Davis' O-line is mediocre but that's not the full story. Few people have mentioned that Davis' offenses have had the security blanket of pass catching Tight Ends for many-a-year: Bo Scaife, Dave Thomas, Jermichael Finley . . . even Dan Buckner. I mean c'mon, Greg Davis' lack of flexibility could only find a way to start pseudo-TE Buckner in 6 games last year. And yes, after 29 catches in the first 5 games of 2009, Davis junked the hybrid experience and Buckner caught 16 passes in the final 9 games of the season. Linus, err Greg Davis, has been lost more than usual in 2010 without his blanket.
This year, the TEs have dropped more first downs and touchdowns than they have converted. And furthermore they have been terrible at blocking. OUCH!!
READ: Dominique Jones doubled the full season's positive performance at the Tight End position by catching a single 1-yard reception last week!!!
After UCLA game, I suggested that we scrap the TEs completely from of the game plan and go pass happy with four-WR sets. After the Oklahoma game, I concluded that our O-line is sooo bad that we should sit down the TEs and bring in two more offensive linemen because: [1] they have to be able to block better than the TEs in run support, allowing our run game to flourish, [2] they have to be able to block better than the TEs in pass support, [3] it allows Gilbert to stop looking for his TE as a futile option in the way the 2010 Greg Davis playbook is delivered, [4] you never know, they might be able to catch 1-yard pass routes, too. 🙂
So much more to say, so little time.
Bottom Line: Greg Davis has one job . . . put up points with a bunch of 4-star and 5-star recruits at his disposal.
Oregon, Oklahoma State, Boise State, and 98% of the rest of the college football world put up more points with far less talent on a weekly basis.