I am not a big tattoo fan, but I wanted to share this to my Texas Longhorns and Dallas Cowboys fans.  It is very interesting. Hook 'em Horns and Go Cowboys! Enjoy both the Hook 'em Report and Silver and Blue Report…. Randy
Kevin Durant has new back tattoos
by Ben Golliver.
CBS Sports
Link Below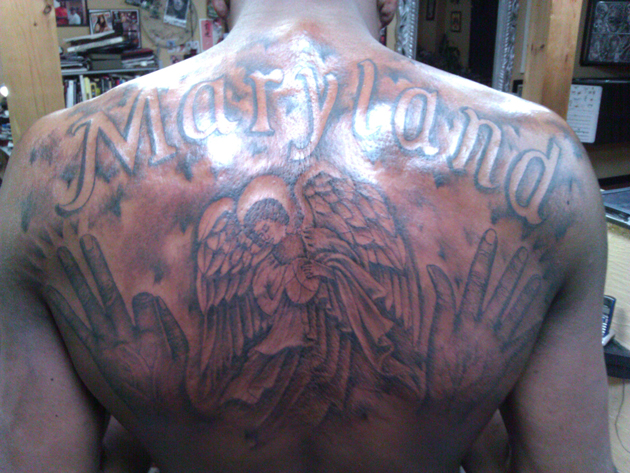 Whatever you do, Kevin Durant, do not change your uniform number. That would make for a painful alteration.
The Oklahoma City Thunder All-Star forward has gotten all sorts of attention for his new-found love of tattoos this summer. Royce Young broke down that phenomenon back in July, but then Durant decided to go back and get some new ink.

Durant's latest artwork — courtesy of a Georgia tattoo artist by the name of Randy — stretches across his entire back and consists of an homage to his jersey number, spirituality and his home state. As you can see below, Durant, a native of Prince George's County, got the word "Maryland" tattood across his shoulders. In the middle of his back is an image of an angel holding a basketball. Surrounding that image are two hands — the left holds up three fingers and the right extends all five — making reference to his jersey number: 35. That number is of special significant to Durant because his childhood AAU coach died at the age of 35.
Home, God and hoops. That's a fairly winning formula for an NBA player, and this design, despite its size, is almost mild by the league's standards. It's not a giant tree like the one owned by Golden State Warriors Monta Ellis and it's certainly not the creepy World of Warcraft design sported by Utah Jazz forward Andrei Kirilenko or the skull-eating woman abomination Miami Heat forward Chris Bosh put on his back.
Of course, like Durant's other tattoos, this green mural will be covered by his jersey while he's playing.
Here's another angle of Kevin Durant's new back tattoo.