National Football Post
Scouting Series – University of Texas
By Wes Bunting
Keenan Robinson
PART 3 of 6
The National Football Post will be breaking down every team in the Football Bowl Subdivision to identify which players could warrant the most interest from NFL teams in the 2012 NFL draft. Therefore, today we take a look at the senior class of the Texas Longhorns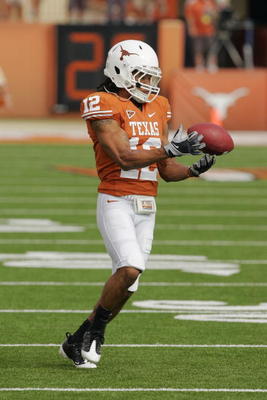 OLB Keenan Robinson: No. 1 (6-3, 238)

Possesses a strong, athletic looking frame with good girth through his lower half. Is an explosive, quick-twitch backer who displays a good first step when asked to close on the football. Gets up to speed quickly and generates "plus" power into contact. Displays the closing range to routinely knife his way into the backfield and make plays off his frame. Exhibits only average instincts however, at times is slow to react to the run game, will take some bad angles in pursuit and doesn't do a great job using his hands to take on blocks. Needs to do a better job sitting into his stance into contact. Too often bends at the waist and uncoils into contact a bit straight-legged. Doesn't possesses great balance when asked to breakdown, throws himself toward the action and will create some impact plays, but also will end up on the ground too often at times missing on ball carriers. Can be overwhelmed on contact when asked to take on lineman and/or sealed from the play.
Displays good body control and coordination in coverage. Keeps his feet under him and can re-direct and close. At times will turn his back when asked to run vertically and doesn't see the football. But exhibits good range/closing speed down the field. Drives quickly on throws under him in zone coverage and will create a snap on contact. However, isn't overly instinctive and doesn't always trust what he sees in zone. Is a reactive player, doesn't get many early jumps on the football and needs to see the ball come out before he's able to try to make a play. Ends up playing the man mostly because of it and not the ball.
Impression: An explosive kid with some natural burst to his game. Isn't overly instinctive and doesn't take on blocks overly well, but is a good fit in more of a run and hit scheme because he possesses very good natural range. A potential starter in the NFL .
http://www.nationalfootballpost.com/NFP-Scouting-Series-Texas-4937.html