National Football Post
Scouting Series – University of Texas
By Wes Bunting
Foswhitt Whittaker
PART 6 of 6
The National Football Post will be breaking down every team in the Football Bowl Subdivision to identify which players could warrant the most interest from NFL teams in the 2012 NFL draft. Therefore, today we take a look at the senior class of the Texas Longhorns.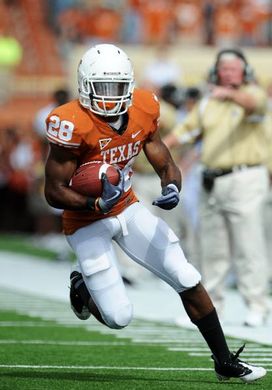 Whittaker should get a camp invite as a potential 3rd down guy.
RB Foswhitt Whittaker: No. 28 (5-10, 198)

A thin, undersized back who lacks ideal girth through his lower half and looks thin in the legs. Possesses an average first step when pressing he line of scrimmage downhill. Displays a decent feel in tight areas and can put his foot in the ground and side step a defender in inside. However, runs leggy for a small back, doesn't stay real compact and struggles to get back up to speed quickly. Doesn't exhibit an initial burst to separate once he makes a man miss and lacks the type of power to routinely break tackles. Despite his size exposes a lot of body through the line and goes down easy on contact. Initially presses the hole low, but pops upright when trying to make defenders miss and doesn't have the kind of second gear to simply outpace them to the edge. Looks most comfortable running from the gun and trying to reach the perimeter, but isn't overly dynamic as a straight-line guy either.
Isn't going to push the pile inside and create through contact. Isn't real patient in blitz pick-up. Tends to drop his head, doesn't see what he hits and will whiff to often into blocks. Can catch the football out of the backfield and is comfortable in the screen game. Does a nice job as a route runner being sudden out of his breaks, separating vs. linebackers and running away from them in man coverage as well. Catches the ball well off his frame and can create after the catch.
Impression: He's undersized, doesn't run real balanced and lacks great straight-line speed. More of an underwhelming 3rd down type back to me in the NFL that isn't worth a pick.
http://www.nationalfootballpost.com/NFP-Scouting-Series-Texas-4937.html