National Football Post
Scouting Series – University of Texas
By Wes Bunting
Blake Gideon
PART  1 of 6
The National Football Post will be breaking down every team in the Football Bowl Subdivision to identify which players could warrant the most interest from NFL teams in the 2012 NFL draft.  Therefore, today we take a look at the senior class of the Texas Longhorns.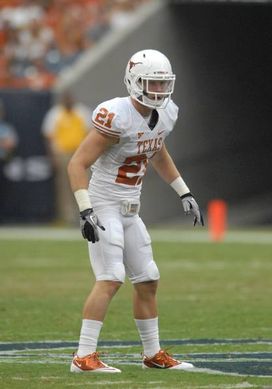 Gideon does some things well, but is a fringe roster guy at best.
FS Blake Gideon: No. 21 (6-1, 205)

Possesses solid height for the position, but doesn't look real physical or strong through his frame. Isn't a real explosive tackler when asked to come down and play the run. Is more of a catcher who doesn't generate any kind of snap through the hips on contact, just drops his pad level and wraps, routinely being driven backward on contact. Isn't real rangy either when asked to close sideline-to-sideline. Will see his angles outpaced in space and isn't a solid open field tackler. Doesn't take consistent angles and struggles to get into ball carriers routinely.
Does a nice job in coverage sitting down into his drop and staying compact with his footwork in his back-pedal. Is a bit tight trying to get out of his breaks and click and close and he will start to pop upright. However, doesn't waste much motion just lacks a burst out of his breaks. Looks balance when asked to re-direct and keeps feet under him. However, isn't real rangy, lacks an initial burst and/or closing speed and doesn't have the range to get over the top in the NFL from the deep half.
Routinely is forced to play the ball and despite his willingness to throw his body around and disengage ball from man, he isn't a guy who will be able to hold up in space in the NFL. Displays "plus" instincts when asked to read and react in zone. Routinely get early jumps on the football. which allows him to create turnovers. Displays good ball skills and will jump throws under him. However, doesn't have the ability to turn and run down the field. Consistently allows receivers to quickly get behind him and doesn't possess the straight-line speed to make up for any kind of a false step.
Impression: He lacks great speed and isn't real physical, which is never a good combo. Will give himself a chance because of his instincts and solid footwork. However, he's a guy you can't trust in space and won't be effective inside the box in the NFL. An overachieving free agent to me.
http://www.nationalfootballpost.com/NFP-Scouting-Series-Texas-4937.html