Great article and very interesting!  Love the names of these players …  Randy
College Football's 2011 FBS All-Name Team (1 of 2)
Lost Letterman
Link Below
With college football season quickly approaching, we skimmed through FBS football rosters to find some of the sport's best names. No, we didn't make these up. We swear. So, here's college football's 2011 FBS All-Name Team.
OFFENSE
QB: Benton "Munchie" Legaux (Cincinnati)

We're not sure how he got the nickname "Munchie," but we imagine he has a big appetite. Throw in a Cajun last name, and you have a brilliant recipe of a name.
.
RB: Isi Sofele (Cal)

For those scoring at home, it's pronounced "EE-see so-fell-AY." We'll see how easy the Pac-12 is for Isi this year as the starting running back for a woeful Cal offense. Bay area headline writers will certainly be rooting for him and the endless headlines he can provide such as, "Isi Does It."
.
FB: Joel Ossom (Oklahoma)
Imagine every time he makes a reservation at a restaurant and asks for a table of two for "Ossom." Let's hope Mr. Ossom goes all out and changes the spelling to "awesome" just to make sure people realize how "ossom" he is.
.
WR: Uzoma Nwachukwu (Texas A&M)
We love any name that gives broadcasters a hard time. And this is one certainly qualifies. This guy has a first and last name with a combined three appearances of the letter 'u.' Oh, and his nicknames "EZ" and "NWA" are pretty awesome too.
.

WR: Curtric "Spiffy" Evans (Boston College)
Why name your child Curtis? That's so lame. So Curtic's mom did him a favor and altered one letter that changed everything, kind of like legendary former college basketball player Fennis Dembo. Oh and check out his photo. Is there any wonder why his nickname is "Spiffy"?
.
TE: Jake Stoneburner (Ohio State)
We can't help but think of Stoneburner's ancient ancestors. We like to imagine his forefather cavemen rubbing rocks together to make fire. Even if they didn't, we're sticking to that story.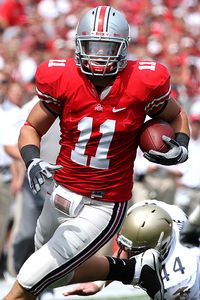 .
OL: Dallas Butts (Navy)
Oh, come on. This isn't a real name, is it? Apparently it is. Call us adolescent, but Mr. Butts gets an automatic spot on this list. Doesn't really seem like a fit for the straight-laced Naval academy, though.
.

OL: Spencer Drango (Baylor)
This sounds like a villain from "24." Can you see Jack Bauer trying to thwart an evil plot masterminded by Mr. Drango? We can. OK, Spencer's a bit docile, but we like the name nonetheless.  
.
OL: T-Bob Hebert (LSU)
Related to T-Pain? Nope. Actually, T-Bob's real name is Bobby Joseph Hebert III, and he's the son of former New Orleans Saints and Atlanta Falcons quarterback Bobby Hebert.
.
OL: Thor Jozwiak (South Florida)
Yes, as in the god of destruction. We don't know about you but if you don't have someone named Thor on your list of top names, you just aren't doing your job. And we're glad Thor is an offensive lineman; a pesky return specialist just wouldn't have seemed right.
.

OL: Joe Looney (Wake Forest)
Most football coaches would love to have an offensive lineman with a bit of a mean streak. The Demon Deacons have one that's literally looney. Now, if only Thor and Looney were teammates …
.
OL: Manase Foketi (Kansas State)
This is just a beautiful name. No jokes, no poking fun. If we were in the broadcast booth, saying this guy's full name at all times is a must. His parents, Salesi and Lina, round out a well-named clan
http://www.lostlettermen.com/8-15-2011-college-fball-all-name-team/