Texas Football: Should the Longhorns Consider Independence If BYU Succeeds?
By Lafe Peavler
Bleacher Report
http://bleacherreport.com/articles/600584-texas-football-should-the-longhorns-consider-independence-if-byu-succeeds

Eric Francis/Getty Images
Last off-season, Texas was the kingpin in the conference re-alignment drama. It was only on Texas' say so that the Big 12 decided to stay together after Nebraska left for the Big Ten and Colorado went to the new Pac-12.
The repercussions of those moves carried into last season, finally ending with TCU saying goodbye to the Mountain West Conference if favor of the Big East.
For now, the conference tremors have stopped.
The Big 12 will be happy with only ten members and no conference championship game.
Yet, the Western Athletic Conference still needs to decide whether or not to expand in order to continue on as an FBS football conference,and they will most likely look to the FCS to fill the void.
But if there's going to be any more earth-shattering conference moves involving AQ conferences, the ball remains firmly in Texas' court.
At this point, Texas has three primary options.
First, they could do nothing.
Under this scenario, the Big 12 would remain at ten teams and without a conference championship game. This is the "less mouths to feed" attitude that kept Texas from bolting with half of the conference to the Pac-10.
Second, they could push the Big 12 to move back to 12 teams.
It makes sense that a conference calling itself the Big 12 should have 12 teams (not that the Big Ten has used any such logic). It would allow the conference to have an extra money-generating championship game, while simultaneously providing an opportunity to improve its overall prestige.
Third, Texas could consider bucking the Big 12 all together to roam free in the green pastures of independence.
Independence is certainly not for everyone. Such a move requires a large and dedicated fan base, a major TV contract, and enough prestige to help with both scheduling and bowl contracts.
Texas has as big of a fan base as the entire state of Texas, so that's a check.
Texas just signed a huge contract with ESPN for a Texas athletics channel. Yet another check.
Texas is, well, Texas. Put a big check in that box.
So, what is Texas waiting for?
Well, Texas doesn't want to take that kind of risk just yet. Besides, another school has already stepped forward to begin such an experiment next year.
Who is that brave program?
None other than the BYU Cougars.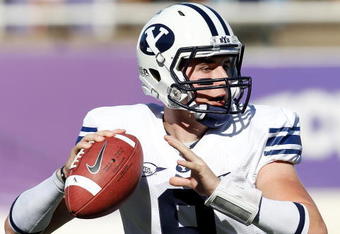 Texas will wait and see how BYU does as an independent
Tom Pennington/Getty Images
However, BYU's reasons for going independent are vastly different than Texas'.
BYU did so because they felt they had no alternative. Utah had left for the Pac-12 and BYU did not want to be stuck under a terrible TV contract in the MWC. Since no AQ conference came calling, BYU decided to venture out on its own.
Texas isn't going to go independent unless they can make bucket-loads more money on their own and secure an automatic BCS birth like Notre Dame.
However, because Texas has viable options other than independence, they're going to watch BYU very carefully over the next couple of years. If BYU does well financially and on the field, Texas may be tempted to follow suit.
So, will Texas shock the college football world by going indie this off-season? No.
But if BYU's experiment with independence proves widely successful, Texas just might to declare its independence as well.
Such a move would revolutionize college football as we know it.