COY: The case for Rick Barnes
By Dana O'Neil
ESPN
http://espn.go.com/blog/collegebasketballnation/post/_/id/22386/coy-the-case-for-rick-barnes
It was about this time last year that Texas took its first step on what became a precipitous slide down the rankings. By season's end, most everyone was questioning what happened to the Longhorns. How could a team with so much talent fizzle so fast?
Well, people are talking Texas again but now folks are wondering how high the Horns can climb. This time around, UT is going the right way on the poll highway, 25th in the preseason and now No. 3 in February.
Texas has loss just once in its last 14 games and that was by one point in overtime against Connecticut.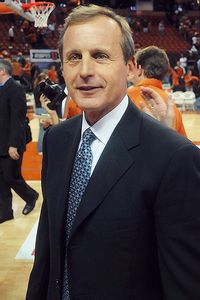 John Albright / Icon SMI
Rick Barnes turned around a Longhorns team that was a major disappointment last season.
The Longhorns have also done what no one can seem to do this season — win on the road. Texas has beaten three top-25 teams in fiercely hostile environments — at Michigan State, at Kansas and at Texas A&M — and are arguably playing the best basketball of any team in the country right now, including unbeaten Ohio State.
Rick Barnes has done a masterful job of retooling and redirecting a team that clearly finished last season like a rudderless ship. But with the Longhorns being the Longhorns, a byproduct of the mightiest athletic department in the country, few are going to offer many violins or hosannas for Barnes.
Rebuilding at Texas? Right, that's hard.
But getting a team that was such a trainwreck at season's end back on track is no easy feat regardless of where you are.
Yet Barnes has managed to get Jordan Hamilton to play within the offense without losing his offensive prowess and has fearlessly relied on two freshmen, Cory Joseph and Tristan Thompson, and reaped the rewards for his trust. Joseph is averaging 11.2 points and Thompson 12.8.
Most of all, Barnes has convinced his team to buy into its defense. A big part of that is Thompson. He owns his space with such authority that he turned Marcus and Markieff Morris into jump shooters in the Horns' victory at Kansas, which ended the Jayhawks' 69-game home win streak.
When things started to unravel last season for Texas, the defense was the first to go. In their first 16 games, up until they earned the No. 1 ranking, they allowed just 63 points per game. In their final 19, when things spun out of control, they gave up an average of 74.7.
This season the Longhorns are getting better, not worse, as the season progresses. Solid defensively all season, the real UT lockdown has been on since the Big 12 season began. Texas is holding league opponents to only 53.4 points per game, and that's including Kansas and Missouri.
Despite all of its athletic success, Texas has been to the Final Four only three times in its history — the most recent under Barnes' tutelage in 2003.
All signs pointed to a return last season until the Longhorns ran into a self-inflicted detour.
This time, the path looks a lot surer.
And for that, the oft-maligned Barnes is worthy of praise.