Muschamp's exit final '10 blow to UT
By Pat Forde
ESPN.com
I arrived in Austin for a six-day stay with the Texas Longhorns on Sept. 2. At that time it appeared to be the most stable location in the turbulent world of college football.
In January, the Horns had played Alabama for the national title. In June, the school held the future of college athletics in the palm of its hand, playing power broker on conference realignment for the entire country. In August, Texas was voted into the preseason top five as usual.
[+] Enlarge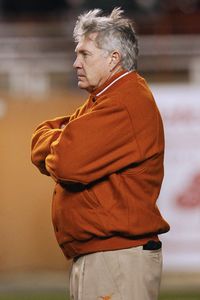 AP Photo/Aaron M. SprecherMack Brown is looking for replacements at offensive and defensive coordinator.
And in September, the Horns embarked upon what everyone was sure would be a 10th straight season of double-digit victories. Despite significant personnel losses from 2009, the present was promising — the roster was loaded with blue-chip recruits ready to showcase their talent. The future was secure — 59-year-old Mack Brown was coaching with plenty of vigor, named successor Will Muschamp was on board and patiently biding his time, and the Texas staff structure was rock solid.
What could possibly go wrong?
Just about everything.
Today, Texas is lurching through a disorienting December. After a disastrous 5-7 season, there is no bowl game for the first time since 1997. Meanwhile, Brown's staff is in disarray following the forced resignation of longtime offensive coordinator Greg Davis, the forced retirements of line coaches Mac McWhorter and Mike Tolleson, and the abrupt defection Saturday by Muschamp to take over as head coach at Florida.
A program presumed to be on autopilot has crash-landed into uncertainty.
Absolutely none of this was foreseeable Labor Day weekend. Everyone at Texas was brimming with confidence for the 2010 season.
They were forecasting imminent greatness for new starting quarterback Garrett Gilbert. They predicted a successful return to a power running game behind a talented offensive line. Some said this could be Texas' best defense ever.
Brown, meanwhile, repeatedly bragged on his staff continuity. He loved the fact that most of his assistants had been together for years. He enjoyed tutoring Muschamp on the duties and demands of being a head coach. And you figured the only way he'd ever part company with Davis was by retiring — and Brown was showing no signs of doing that.
Almost none of that panned out.
I was on the sidelines and in the postgame locker room with the Longhorns for their season-opening game against Rice. Everyone on Earth expected it to be a beatdown, but it wasn't — the first sign of trouble.
Texas won 34-17. There were troubling omens — most notably an inability by the offensive line to consistently control the line of scrimmage against an outmanned opponent that would win only four games.
The day after the game, Brown limited my access for the one and only time in my six days, holding me out of a staff meeting. He said he needed to get on one of his assistants, and he simply will not criticize any coach or player in public or to the media.
In the Sunday team meeting, Brown praised the victory but told his players he detected an air of entitlement and arrogance about them. As it turned out, arrogance mixed with some general incompetence was a very bad combination. After a 3-0 start against middling competition, the season collapsed.
Gilbert struggled through a ghastly season, throwing 10 touchdowns and 17 interceptions and ranking 95th nationally in efficiency. The running game remained impotent, largely because Texas' line was terribly ineffective. The defense, while good, didn't come close to living up to its best-ever billing.
[+] Enlarge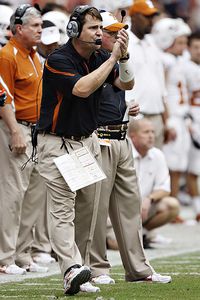 Bob Levey/Getty ImagesWill Muschamp's departure was the final blow in the Horns' disappointing season.
Yet just as shocking was the fracturing of Brown's staff.
Perhaps the most unsettling surprise of the season was the midseason voluntary leave of absence by associate athletic director for football operations Cleve Bryant. In a letter from his attorney obtained by the Dallas Morning News, Bryant acknowledged that an unspecified accusation had been made against him by a woman who is a former part-time employee of the football program but denied all wrongdoing. Bryant stepped away indefinitely from his job working closely with Brown, who is immensely fond of Bryant.
In September, the head coach downplayed a sideline tongue-lashing he gave McWhorter at Texas Tech and said his job was safe — but by season's end, McWhorter's nine-year tenure at Texas was done. The more painful staff changes undoubtedly were at the coordinator positions.
Brown would have more happily lost a kidney than forced out Davis. They'd coached together for 18 years, dating back to their days at Tulane, and Brown had defended Davis' play-calling repeatedly to Texas fans over the years. That defense was vindicated repeatedly by the Longhorns' offensive success with Vince Young and Colt McCoy at quarterback.
But there was little latitude after this season. Something had to change. Someone had to go.
The shock for Brown was that his top two assistants both went.
Muschamp wasn't going to wait forever for Mack — he was too hot a name for that. But Texas did what it could to enhance his patience by making him the highest-paid assistant coach in college football.
Nobody saw him going to Florida, certainly not as rapidly as it went down. Texas sources say the Saturday announcement was a shocker that caught a lot of people off guard.
Now Brown finds himself shopping for half a staff, and having to convince recruits that the new coaches will be just as good as the old coaches.
High-caliber recruits still will want to play for Texas, and highly qualified assistants still will want to coach there. But Brown suddenly has a much different December job description than he's accustomed to.
Out with the bowl prep. In with the staff overhaul.
I could never have seen that coming in September.
Pat Forde is a senior writer for ESPN.com. He can be reached at ESPN4D@aol.com.
Follow Pat Forde on Twitter: @espn4d