The Eyes of Texas: Recruiting Malcolm Brown a Must for Texas Longhorns
By T.J. Mcaloon (Texas Featured Columnist) – Bleacher Report.com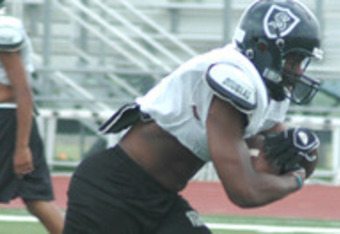 The Eyes of Texas is a weekly column composed by T.J. McAloon about the University of Texas's football program.
Currently, Malcolm Brown is the only high school senior to be considered a five star recruit in the 2011 class as ranked by Rivals.com. He is heralded as the top player in the state of Texas and the country. And, he already has received scholarship offers from a variety of schools.
While Malcolm still has time to decide where he wants to play his freshman year of college football, he has turned his focus towards two schools. The school he grew up watching – the University of Texas – and a recent addition to the list of considerations – the University of Alabama.
The University of Texas always seemed to be Brown's obvious choice for college football having grown up in Texas near San Antonio. However, a recent trip to Tuscaloosa peaked his interest in the Crimson Tide. While in Alabama, Malcolm met with Coach Saban and toured the University of Alabama campus. Could he consider following in the footsteps of Heisman Trophy winner, Mark Ingram Jr.?
For Texas, losing  Brown to the Crimson Tide would not only derail what could be one of their best recruiting classes, but would also keep Texas from fixing their weakness in the running back position. While only a senior in high school, Brown would certainly be the best option for Texas to add depth to their team in 2011.
In Brown's junior year at Cibolo Steele, he rushed for 2,170 yards and 33 touchdowns on 201 carries. And, Brown's yards per carry are what really separate him from other running backs in the state of Texas and the country. Last year, Brown averaged 10.8 yards per carry.
What does Texas have to do to help sell Malcolm Brown on their school? Well, for starters, they should focus on the allure of playing in his home state. Brown was the center of attention at one of their football camps in June. And, a recent visit to Austin was a news story for the city.
Brown admitted that he could be making a decision very soon. His trip to Austin was to focus clearly on academics and his personal life should he attend next year.  And, Malcolm said in an interview, "I'm still going to try and do it before the season."
Mack Brown and his coaching staff will try to woo Malcolm into coming to Texas over Nick Saban and the powerful SEC conference. If you're a Texas fan, then you better pray that Malcolm Brown is wearing a University of Texas hat when he makes this very important decision. Otherwise, if he dawns the Crimson and White of Alabama, then it's back to the drawing board for the Texas running game.
Photo courtesy of Rivals.com