Texas Longhorns: Why Malcolm William's Play is Essential to Success
By Louie Longoria (Bleacher Report)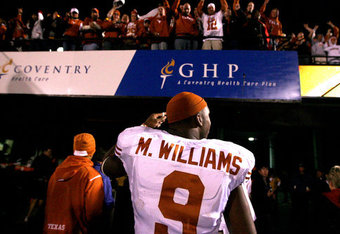 2009 was the ideal year for the Texas Longhorns.
After an undefeated regular season, the Texas Longhorns were ready to play for their second national championship in five years.
This set up a clash of undefeated teams with storied programs in the BCS National Championship Game between the Texas Longhorns and the Alabama Crimson Tide.
Unfortunately, in the fifth offensive play for the Longhorns, Texas quarterback Colt McCoy suffered a shoulder injury and was unable to return.
Garrett Gilbert—who had little experience as a backup for the winningest quarterback in college football history—was thrust into the game and, despite a solid performance from the 6'4″ freshman, Texas lost the national title to Alabama.
With the departure of McCoy and big play receiver Jordan Shipley to the NFL, the team must address issues concerning the offense and who will step in to replace two of the biggest stars the University of Texas has ever produced.
This season, expectations remain high for the Longhorns, as Gilbert is ready for his first full year under center. However, questions remain as to who can emerge as the primary receiver to assist Gilbert in transitioning to become the quarterback of Texas, a title that has become more prestigious due to the recent success of past Longhorn signal callers.
Senior receivers James Kirkendoll and John Chiles have the capability to continue to be productive, but Malcolm Williams may be the key to how well the Texas offense can perform this season.
Williams is a physical receiver who is capable of producing big plays from anywhere on the football field.
The 6'3″, 225-pound junior finished last season second on the team in receiving yards (550) and had two scores despite playing alongside Shipley, who finished his collegiate career second all-time in receiving yards at the University of Texas.
His 14.1 yards per catch average from last season indicates that he has definite big play ability and can be a nightmare matchup for opposing defenses.
Williams, as well as Kirkendoll and Chiles, will have the responsibility of filling the void left by Shipley and helping Gilbert stay comfortable during his steady transition from sparingly used backup to leader of the Longhorns.
Williams, an all-state athlete in both football—he spent time at six different positions—and track and field during high school, showed his ability to perform at a high level when needed to do so.
He will have to rely on his superior athleticism and physicality to help the Texas offense regain its national prominence from a year ago and help the team once again contend for a national title.
The Longhorns reached the BCS National Championship Game last season, and although they did not win, they are still major contenders this season.
With a stifling defense and an offense that needs to prove itself, the play of Malcolm Williams could very well dictate whether or not Texas can reach Glendale, AZ and play, once again, for a national championship.