Why Texas' Running Back Issues Could Cost Longhorns a National Championship
by Louie Longoria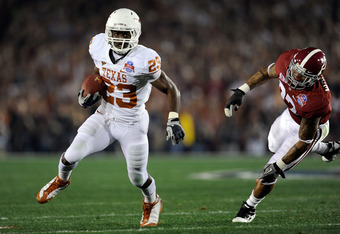 Kevork Djansezian/Getty Images
January 7, 2010.
Texas found out just how badly it needs an emerging star running back.
In their BCS National Championship Game loss against Alabama, they witnessed the Crimson Tide's relentless running attack, as Mark Ingram and Trent Richardson torched the Longhorn defense for 225 yards and four touchdowns.
The Texas rushing attack that finished 61st in the nation last year needs to improve dramatically to relieve pressure from first-year starting quarterback Garrett Gilbert.
Despite Gilbert's decent showing against the second-ranked defense in the National Championship, he will need key contributions from an otherwise inconsistent backfield to simplify the offense he was thrust into at the conclusion of last season.
The Longhorns' struggles at the running back position were partly due to the untimely injuries to Tre' Newton and Fozzy Whittaker. The running attack could also suffer a slight dip in production at the beginning of this season due to the suspension of Vontrell McGee.
Newton missed two games last year, and Whittaker the first three games of last season, in which the running game never recovered.
McGee is suspended for at least the first game of the upcoming season against Rice after his arrest on a drunken-driving charge.
Newton, Whittaker, or freshman Chris Whaley, who had a strong showing in the Longhorns' spring game, needs to emerge as the featured back instead of having a rotation of runners.
Since the inception of the BCS National Championship Game in 2007, running the ball has been paramount in the success of the eventual champions.
Florida in 2007 and 2009, LSU in 2008, and Alabama last year all won the BCS National Championship with strong showings from the running game.
However, Texas does not have to look far to discover the importance of a dominant rushing attack in a championship game.
Vince Young carried the Longhorns with 200 rushing yards and three touchdowns in their 41-38 Rose Bowl win over USC four years ago to give Texas its first national championship since 1970.
While Texas does not need that great of a performance on a constant basis in order to contend for a BCS National Championship, they do need solid contributions from their rotation of backs.
Texas has plenty of athleticism and will remain one of the deepest and most talented programs in Division I college football.
Even without a dominant running attack, Texas is still considered the favorite to win the Big 12.
However, with championship contenders Alabama, Florida, and Ohio State having stability in the backfield, the Longhorns' road to a national championship in 2010-11 could become much more difficult than last season.