Texas Longhorns Football: With Key Pieces Gone, Will Defense Struggle This Year?
Bleacher Report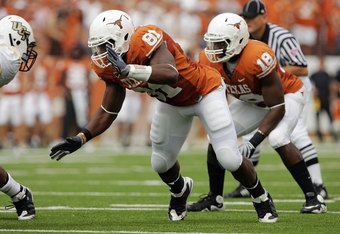 Brian Bahr/Getty Images
The Texas Longhorns have usually put forth a strong defensive effort year-in and year- out. And lately, they have been very good on that side of the ball.
Every year, however, we tend to think that after losing several good players on defense, the Longhorns won't be as good as they were the previous season.
Many fans are asking the same question as we head into the 2010 season.
The Longhorns lost some great talent from last year's team. Safety Earl Thomas, outside linebacker Sergio Kindle, middle linebacker Roderick Muckelroy, and defensive tackle Lamarr Houston have all gone.
New guys will have to step up in their place. Who is going to step up? How well will the Longhorns defense perform in 2010? Let's find out?
Sergio Kindle is quite possibly the most difficult player to replace from last year's squad. Kindle could make the big play when needed and he put fear in opposing offenses.
So who on this Longhorns roster can step up and take his place?
The answer is Emmanuel Acho. Acho has been developing for the Longhorns and should have a breakout season this year.
Acho has a good understanding of the game and always seems to know where the ball is. He has been a sure, sound tackler and stays on his assignment. And he waits for the play to develop.
Acho should be a sound replacement for Kindle. He should get a lot of heat on the passer and play the running game very well. Look for him to have a solid season in replacing the former Longhorns star.
Someone will have to step things up to replace Lamarr Houston, who was selected this April in the 2010 NFL Draft, on the defensive line. Right now, it appears the Longhorns will use Kheeston Randall, who could end up having a big season, as a replacement for Houston.
Randall has all the skills they want in a defensive lineman and could become a more than adequate replacement for Houston.
The Longhorns must also replace Earl Thomas at the safety position. They have some talent there as well, and should fill his spot with players like Blake Gideon, who lined up opposite Thomas in the secondary last season. But Gideon should be able to fill the void.
Christian Scott and Kenny Vaccaro will also step up and help out at the safety position.
Texas lost linebacker Roddrick Muckelroy and will have to replace him as well. Keenan Robinson and Dustin Earnest are waiting in the wings to replace him (and his production).
Team officials figure there will be no drop off with Muckelroy gone and these guys will step up and keep the defense playing well again in 2010.
We shouldn't worry about Texas and their defense in 2010. They have plenty of great talent to replace those guys that have left. There shouldn't be a letdown in 2010.
In fact, Texas could have an even better year than they did in 2009.
We shall soon find out.