March Madness 2010: Expect Cornered Longhorns To Come Out Swinging
by Dino Nicandros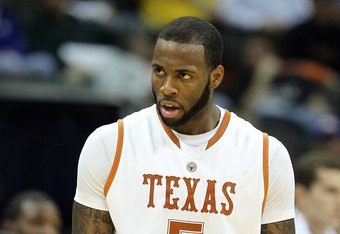 Jamie Squire/Getty Images
In nature, when an animal is injured or in a compromising situation, it tends to become more aggressive and incredibly dangerous.
The once undefeated and first-ranked Texas Longhorns are limping into the NCAA tournament following a nightmarish month and a half of mediocre basketball.
After starting 17-0, with quality wins over Pittsburgh, North Carolina, and Michigan State coming in that stretch, the Longhorns have dropped nine of the last 16 contests, including seven losses in Big 12 play.
Over the first half of the season, Texas looked like a sure bet to be a Final Four contender and a possible No. 1 seed.  The Longhorns now find themselves in a treacherous 8-9 matchup against Wake Forest in the first round, with a contest with Kentucky looming should they advance.
Texas' recent struggles can be attributed to a number of factors including an injury to starting point guard and defensive specialist Dogus Balbay, inconsistent defense, freshman mistakes, and atrocious free-throw shooting.
With all of that in mind, I believe the biggest issue facing Texas is the loss of a definitive identity.
Through the first two months of the season, this team could speed up the pace and play in transition or slow it down in the half-court game.  The Longhorns were also among some of the better defensive teams in the nation.
The Texas offense ran through senior leaders Damion James and Dexter Pittman with incredible efficiency, with freshmen sensations Avery Bradley and Jordan Hamilton providing support from the wing.
Since the Longhorns' first loss of the season at Kansas State, head coach Rick Barnes has been unable to find a group of five players out of the incredible wealth of talent he posesses that can give consistent minutes on the floor.
Apart from double-double machine Damion James and the surprising offensive outburst from junior forward Gary Johnson, production has dropped off across the board.
Big man Dexter Pittman, who nearly averaged a double-double during Texas' 17-0 run, hasn't been nearly as effective in Big 12 play, often spending much time on the bench with foul trouble.  Pittman also sees double and triple teams much of the time due to a drop off in shooting percentages from behind the arc.
Avery Bradley showed signs of greatness in December, including two 30 point outbursts, but the talented freshman has gone quiet on the offensive end ever since.
With the loss of Dogus Balbay, guards J'Covan Brown and Jai Lucas have struggled to produce at the point and often make bad decisions with the ball.
Jordan Hamilton simply takes bad shots and makes bad passes.
Right now this Texas team is made up of a bunch of talented individual basketball players who have yet to grasp the team concept.
Bevo is losing blood quickly after taking so many shots from the brutal Big 12 schedule and some brutal Bear attacks (three to be exact).
It would be easy for the Longhorns to fold up and let equally-beleagured Wake Forest take advantage of them in the first round, and seeing as how this team has played of late, I wouldn't be surprised.
It won't happen, though. The killer instinct will kick in.
The Longhorns were pushed to the ground and have been kicked around for the last month, but the attributes that made Texas a 17-0 team are still in there somewhere, buried deep beneath the bumps and bruises this team has suffered.
Damion James has been consistently great all season long and has the firey leadership you look for in a championship contender.
Big Pittman has proven to be a monster down low when given room to operate.
The freshmen Bradley, Hamilton, and Brown have shown signs of growth and play-making ability.
At this point, Texas can play loose, pressure-free basketball.  What's left to lose anyway?
Some expect the Longhorns to get past Wake Forest. Even fewer expect the Longhorns to stay in the building against a talent-riddled Kentucky squad.
Texas is arguably one of the most talented teams in the nation with no expectations this postseason.
So why not leave it all out on the court?
Expect Rick Barnes to have his team unleash everything in the arsenal without hesitation.  After all, there is no tomorrow for Texas if they can't win in the first round.
It's now or never.
Whether Texas can actually realize its potential and pick itself up from the mud remains to be seen, but these Longhorns are dangerous none the less.
Don't expect Bevo to go down for good without a fight.