==========================================
Fantastic Article … Randy
DEXTER PITTMAN ARTICLE
http://sports.espn.go.com/ncb/columns/story?columnist=oneil_dana&id=4777616
========================================


Offense: All-Decade All-Americans (High School)
Updated: December 28, 2009, 4:31 PM ET
ESPN RISE Magazine
(Based on high school accomplishment and including performances in college and the NFL. Year listed is senior season of football, not graduating class. Height and weight are from when each player was in high school.)
Adrian Peterson decade's top athlete | All-Decade defense | Discuss: Were we right? | All-California
FIRST TEAM
WR Percy Harvin (2005)
Landstown (Virginia Beach, Va.), 6-1, 195
Explosive player on catches or rushes had 173 career receptions for 2,935 yards and 42 scores among 77 total touchdowns. The first-round pick of the Minnesota Vikings in the 2009 NFL draft also helped the University of Florida win the 2006 and 2008 national titles.
WR Calvin Johnson (2003)
Sandy Creek (Tyrone, Ga.), 6-3, 180
He was one of the top-10 ranked wideouts as a prep, then set several records at Georgia Tech. Johnson was the No. 2 overall pick in the 2007 draft by the Detroit Lions and shared the league lead with 12 TD catches the next season.
OL Jeff Byers (2003)
Loveland (Loveland, Colo.), 6-4, 275
So dominant was Byers in high school that he was Colorado's overall player of the year. He also was an EA SPORTS national player of the year. Byers just played his last game at USC in the Emerald Bowl.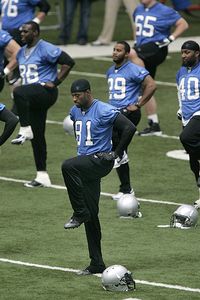 AP Photo/Carlos Osorio
Calvin Johnson caught 80 passes for 1,479 yards and 18 touchdowns in his final two seasons at Sandy Creek (Tyrone, Ga.).
OL Seantrel Henderson (2009)
Cretin-Derham Hall (St. Paul, Minn.), 6-7, 310
He's still considered a high schooler, but for a big man with athleticism Henderson is one of the best lineman prospects many college recruiters have ever seen. He was the Minnesota player of the year on offense and is a candidate for 2009 national honors.
OL Jake Long (2002)
Lapeer East (Lapeer, Mich.), 6-6, 290
How athletic was the massive Long in high school? He received all-league honors in basketball and baseball while also playing at an all-state level in football. After starring at Michigan, he was the top pick in the 2008 NFL draft.
OL Michael Oher (2004)
Briarcrest Christian (Memphis, Tenn.), 6-5, 330
The subject of the hit movie "The Blind Side" was a legitimate All-American in high school for two seasons. He went on to star at Ole Miss and currently plays for the Baltimore Ravens.
OL Andre Smith (2005)
Huffman (Birmingham, Ala.), 6-6, 325
Smith, the first offensive lineman to win Alabama's Mr. Football honor, didn't allow a sack as a senior. The University of Alabama standout was a first-round NFL draft pick last April by the Cincinnati Bengals.
QB Matthew Stafford (2005)
Highland Park (Dallas, Texas), 6-3, 220
As a senior, he led his team to a 15-0 record and state title while passing for 4,013 yards and 38 TDs in 13 games. After his University of Georgia career, the Detroit Lions made Stafford the top pick of the 2009 NFL draft.
RB Cedric Benson (2000)
Lee (Midland, Texas), 6-0, 205
He led Lee to three straight state titles and had 8,418 career rushing yards, the best largest-class total in state history. After a stellar career at Texas and a stop with the Chicago Bears, Benson became the Cincinnati Bengals' workhorse back.
RB Maurice Jones-Drew (2002)
De La Salle (Concord, Calif.), 5-7, 180
In the Game of the Decade, when De La Salle defeated Long Beach Poly (Long Beach, Calif.) with seven eventual NFL players on the field, Drew (he didn't use the Jones-Drew name then) stole the show by scoring four touchdowns. He's currently among the top running backs in the NFL for the Jacksonville Jaguars.
RB Adrian Peterson (2003)
Palestine (Palestine, Texas), 6-2, 210
The ESPN RISE Player of the Decade still has to pass some legendary names on any all-time greats list from Texas, among them Eric Dickerson, Earl Campbell, Billy Sims and LaDainian Tomlinson. But he has plenty of time.
K Jimmy Stevens (2006)
Heritage Hall (Oklahoma City, Okla.), 5-7, 145
He set a U.S. record of 50 career field goals, helped by a season-record-tying 22 as a junior. The University of Oklahoma kicker converted 11-of-13 field goals this season.
MULTI-PURPOSE
Marvin Gentry/US Presswire
Tim Tebow finished his high school career with over 13,000 total yards and 158 touchdowns before winning a Heisman and two national championships as a Florida Gator.
RB/WR/KR Reggie Bush (2002)
Helix (La Mesa, Calif.), 5-11, 185
The dynamic open-field runner piled up nearly 5,000 yards and led Helix to CIF San Diego Section titles in 2001 and 2002. A state sprint star in track as well, Bush went on to win the Heisman Trophy at USC and was the second overall pick in the 2006 NFL draft.
QB/ATH Jacory Harris (2007)
Miami Northwestern (Miami, Fla.), 6-3, 180
In one of the decade's biggest games, Harris led Miami Northwestern to a huge win against Southlake Carroll (Southlake, Texas). He also led the Bulls to two straight state titles and was the EA SPORTS Player of the Year. Harris passed for more than 3,000 yards this season for the University of Miami.
WR/DB/KR DeSean Jackson (2004)
Long Beach Poly (Long Beach, Calif.), 5-11, 180
The Mr. Football State Player of the Year for 2004 led Long Beach Poly to a championship season and had 101 career receptions plus numerous game-changing interceptions, kick returns and runs from scrimmage. Jackson is now perhaps the best big-play performer in the NFL with the Philadelphia Eagles.
QB/ATH/DB Terrelle Pryor (2007)
Jeannette (Jeannette, Pa.), 6-6, 225
The first Pennsylvania player to rush and pass for more than 4,000 career yards helped a 16-0 team win a state title in his final year. The nation's No. 1 recruit in 2008 is a two-year starter at QB for Ohio State.
QB/ATH Tim Tebow (2005)
Nease (St. Augustine, Fla.), 6-3, 220
As a senior, he led his school to its first state title while passing for 3,324 yards and 31 TDs and rushing for 1,150 yards and 20 scores. He won the Heisman Trophy in 2007, and a year later he led the University of Florida to a national title.
QB/DB Vince Young (2001)
Madison (Houston, Texas), 6-5, 200
Before going to Texas and leading the Longhorns to a national title, Young was the Student Sports National Player of the Year. He had 2,432 yards passing with 31 TDs and 1,735 yards rushing with 22 TDs as a senior. Young's career totals included 8,518 combined rushing and passing yards.
SECOND TEAM
• WR A.J. Green Class (2007): Summerville (Summerville, S.C.), 6-4, 190
• WR Julio Jones (2007): Foley (Foley, Ala.), 6-4, 215
• TE Vernon Davis (2002): Dunbar (Washington, D.C.), 6-4, 230
• OL Tray Allen (2006): South Grand Prairie (Grand Prairie, Texas), 6-4, 305
• OL Shawn Andrews (2000): Fairview (Camden, Ark.), 6-5, 320
• OL Alex Boone (2004): St. Edward (Lakewood, Ohio), 6-8, 330
• OL Derek Landri (2001): De La Salle (Concord, Calif.), 6-4, 285
• OL Sam Young (2005): St. Thomas Aquinas (Fort Lauderdale, Fla.), 6-8, 305
• QB Mark Sanchez (2004): Mission Viejo (Mission Viejo, Calif.), 6-4, 210
• RB Toby Gerhart (2005): Norco (Norco, Calif.), 6-1, 225
• RB Knowshon Moreno (2005): South (Middletown, N.J.), 6-0, 205
• K Kai Forbath (2005): Notre Dame (Sherman Oaks, Calif.), 6-0, 175
MULTI-PURPOSE
• QB/RB/WR/DB/LB Michael Bush (2002): Male (Louisville, Ky.), 6-1, 230
• QB/RB Chase Daniel (2004): Southlake Carroll (Southlake, Texas), 6-1, 215
• QB/RB Garrett Gilbert (2008): Lake Travis (Austin, Texas), 6-4, 205
• WR/KR Devin Hester (2001): Suncoast (Riviera Beach, Fla.), 6-1, 170
• WR/RB/KR Joe McKnight (2006): John Curtis (River Ridge, La.), 6-1
• QB/RB Russell Shepard (2008): Cypress Ridge (Houston, Texas), 6-1, 190
THIRD TEAM
• WR Michael Floyd (2007): Cretin-Derham Hall (St. Paul, Minn.), 6-3, 205
• TE Jermaine Gresham (2005): Ardmore (Ardmore, Okla.), 6-7, 240
• OL Anthony Davis (2006): Piscataway (Piscataway, N.J.), 6-6, 340
• OL Matt Kalil (2007): Servite (Anaheim, Calif.), 6-7, 285
• OL Steven Schilling (2005): Bellevue (Bellevue, Wash.), 6-5, 290
• OL Baker Steinkuhler (2007): Southwest (Lincoln, Neb.), 6-6, 290
• OL Gabe Watson (2001): Southfield (Southfield, Mich.), 6-4, 320
• QB Chris Leak (2002): Independence (Charlotte, N.C.), 6-0, 210
• RB Maurice Clarett (2001): Harding (Warren, Ohio), 6-0, 230
• RB Mike Hart (2003): Onondaga Central (Nedrow, N.Y.), 5-9, 185
• RB Chris Wells (2005): Garfield (Akron, Ohio), 6-2, 230
• K Justin Sorenson (2007): Bingham (South Jordan, Utah), 6-1, 220
MULTI-PURPOSE
• QB/RB/DB Dillon Baxter (2009): Mission Bay (San Diego, Calif.), 6-0, 205
• WR/DB Jeff Francouer (2001): Parkview (Lilburn, Ga.), 6-2, 190
• QB/RB/DB Will Hill (2007): St. Peter's Prep (Jersey City, N.J.), 6-3, 210
• QB/RB/DB Jake Locker (2005): Ferndale (Ferndale, Wash.), 6-3, 210
• QB/RB/DB Ryan Perrilloux (2004): East St. John (Reserve, La.), 6-3, 225
• RB/KR Jacquizz Rodgers (2007): Lamar Consolidated (Rosenberg, Texas), 5-7, 190
=============================================
| | |
| --- | --- |
| Dexter Pittman: Rising Draft Stock, per ESPN Insider | |
Dexter Pittman, C, Texas
For the first three years of his career, Pittman was a curiosity — a fat kid who had lost a lot of weight and turned himself into a nice basketball player. This year, Pittman is more than a human interest story. He's beginning to dominate the middle in a way few players in this year's draft can.
Pittman came up with his best game of the year on the biggest stage of the season so far on Saturday versus North Carolina. He scored 25 points, grabbed 15 rebounds and outmuscled and outhustled two Tar Heels with serious NBA potential — Ed Davis and Deon Thompson.
Pittman still doesn't have the endurance to play more than a few minutes at a time on the floor. He's still — three years and 80 fewer pounds later — trying to get into great shape. But for the first time, Pittman is looking like a very legit NBA big man. We now have Pittman in our Top 30. If he can continue to put up big numbers, he could end up in the late lottery by draft time.
=================================================